Hotchkiss Crawford Historical Society & Museum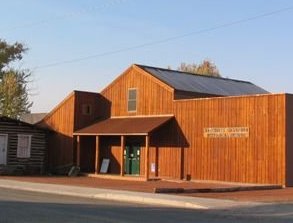 UPCOMING EVENT May 29 at 9:30am: The Hotchkiss-Crawford Historical Society is hosting a May 29 Memorial Day ceremony at the museum, 180 S. 2nd St in Hotchkiss, to honor Victor Haglund, the only casualty from the North Fork Valley in the Vietnam conflict. The presentation of Mr. Haglund's military awards for display at the Historical Society Museum Veteran's Memorial Exhibit will commence at 9:30 a.m. with Lynch/Cotten American Legion Post Commander David Cotten presiding.
Immediately following the awards presentation, HCHS Veterans Auxiliary Members will be conducting its annual Memorial Day salute at the flagpole at Riverside Cemetery at 10:00 a.m. All veterans and family members are encouraged to attend both programs.
Coffee and donuts will be available at the museum before and after the two Memorial Day programs.

HAGLUND VICTOR MILFORD JR ARMY PFC 19470513 CRAWFORD DELTA 19691114 Y
(Above line is from U.S. Military Fatal Casualties of the Vietnam War for Home-State-of-Record: Colorado)


Museum Brochure for the Hours (PDF)
In the News
--
North Fork Merchant Herald March 202
3
--
A Love of Music Kind of Place March 18 at the MuseumM
Meeting Minutes & Annual Meeting Newsletter
2023 Annual Meeting Newsletter
March 2023 Regular Meeting Minutes
Current Pictures Inside the Museum

New 270 Belt Buckles Exhibit Donated by the Willie Watson Family

From the Chamber Business Directory
Hotchkiss Crawford Historical Society & Museum
180 South 2nd St
PO Box 724
Hotchkiss CO, 81419
970-872-3693
Click here for website

Museum. Preserving local history in a beautiful location one half block south of Highway 92 on Second street in downtown Hotchkiss. A wonderful collection of artifacts of the area, plus, an attached original settlers' log cabin furnished in period pieces. Click website link for current hours.